Top 40 causes to receive $25,000 from State Farm #MomCentral
Disclosure: I participated in an Influencer Activation on behalf of Mom Central Consulting for State Farm. I received a promotional item to thank me for participating.
I've been involved in a wide variety of causes over the years. It started when, as student council president in high school, my advisor suggested that I think about ways that the student body could make a difference in the community. We were soon connected with a woman who took care of babies abandoned by their parents, many whom had some sort of disability. We organized a talent show and the proceeds were used to purchase formula, diapers, and other necessities for the orphanage.
In my early 20's, I also had the opportunity to serve in AmeriCorps NCCC, a residential service program. In 10 months, my teammates and I worked with organizations in D.C., Maryland, Virginia, and West Virginia, including the Gesundheit! Institute of Patch Adams fame. I eventually became CEO of a small nonprofit organization that provided cloth diapers to struggling families across the country. I answered crisis lines for and interned at an organization that served people who had experienced domestic violence and sexual assault.
I am also an aspiring social worker. My mother lived with Bipolar 1 Disorder for over ten years before she was officially diagnosed. I grew up with the stereotypical Tiger Mom who never showered me with the affection I craved. Instead, my efforts were met with corporal punishment and constant pressure to uphold the family honor. It was not until she revealed her past that I realized that she was coping with unresolved trauma ranging from losing her parents to child abuse and rape. My mother never had the opportunity to attend school past the third grade, so she lived her life vicariously through me. After I gained my independence, I struggled to find my career path.
When I was twenty-four, I gave birth to my daughter. My husband and I were not yet married, we were both unemployed, and found ourselves on public assistance. With encouragement from a home visiting program, I enrolled at a community college the following summer. A year later, my husband and I were becoming more self-sufficient, so we embraced the opportunity to become kinship foster parents. We began advocating for his sister who was bounced from home to home since she was nine years old.
My husband and his sister both grew up in a violent home, neglected by their parents who were addicted to various substances. My husband dropped out of high school to work and support himself, whereas his sister was subject to continued mistreatment by other kinship placements and several foster parents. At that point, it became very clear to me that the foster youth needed someone who asked questions and persisted for answers. The sad truth is that, despite our efforts, my husband's sister chose a life of homelessness and hopping trains. However, she is now a mother of two and is trying not to repeat the mistakes her own parents made. She is rebuilding her life, just as I did when I was blessed with my daughter, using the skills we taught her in the two years she was in our care.
As a social worker, I want to work with children, but I also want to incorporate a more holistic approach by working with their family members as well. I would like to teach them to navigate community resources as I did and to not give up hope because without it, change is impossible. My dream job would be working with foster youth and their families because those populations are particularly vulnerable to mental health and substance abuse issues and cases often involve crisis management. More specifically, I want to ensure that youth and their families have services tailored to their needs, whether it is access to quality mental health services, safe and adequate housing, or education regarding positive discipline and developmentally appropriate practice.
My current volunteer activities include involvement in PTA, my child's classroom, mentoring as a Foster Care to Success mentor, and mentoring in a program at my university. I value my involvement in my child's education and would like to encourage those behaviors in my clients as well because it is so important to a child's social, emotional, and academic well-being. I strongly believe in modeling the behavior I would like to see in my clients.
As you can tell, just from my own experience, I have been involved with many different types of causes that deserve funding, which is why it is no surprise that State Farm needs your help deciding which of the 40 proposals deserve grants of $25,000 (each). Each cause falls under three categories: safety, education, and community development.
Since I am now living in the Arizona community, one cause that certainly has my attention is the Aguila Youth Leadership Institute, which is looking to the the State Farm Neighborhood Assist grant to help Latino/Latina youth achieve their own educational goals while also assisting their peers to achieve theirs. Being a first generation college student myself, I understand the importance of education, peer-mentoring, and the passion to give back.
Another cause that is attractive due to my own experiences with gardening is Tucson's Native Seeds/SEARCH, which aims to provide free seeds to all who want to alleviate hunger. This promotes the expansion of school and community gardens for the purpose of food security.
Here's a look at one of last year's grant recipients: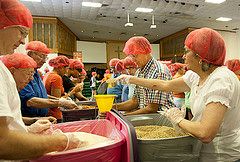 If your community were eligible in the State Farm Neighborhood Assist voting, what would you like to see the donations fund?
Image Credit: Kids Helping Kids – Florida & State Farm
Currently, you can vote 10 times per day. Voting ends May 16th and the winners will be announced on May 27th, so what are you waiting for?! Get to voting!