Polly Pocket Playtime Pet Shop Playset
September 19, 2012

Filed under

Reviews
Shortly before I left for my grad school visits, my daughter received her second Polly Pocket box, which she had anticipated for some time. Every day, she would ask me if her "new Polly Pocket" had arrived, and each time I said no, she would hang her head dejectedly. This is a kid that likes to throw open the door every time the mail arrives, though thankfully, she knows not to do that if no one else is in the room with her! Needless to say, when it finally arrived, she was E-X-C-I-T-E-D.
I plopped her down for a pose with the box and caught her just as she was about to throw up her arms and cheer, "YES!"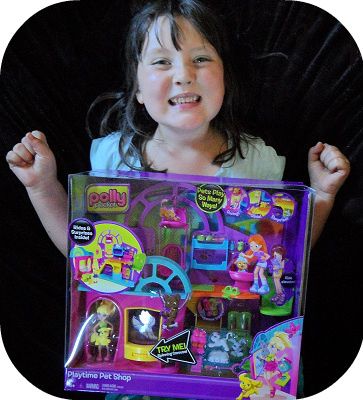 I can't think of a time when she was more excited. Not even Christmas.
The Polly Pocket Pet Shop is an excellent addition to the first playset we received. Whereas the first is more of a portable mini dollhouse, the pet shop, as the name indicates, has a foci on the animals (there are eight pets, to be exact).
Let's take a closer look at the packaging:
And here is what it looks like closed and open. As you can tell, it's pretty compact!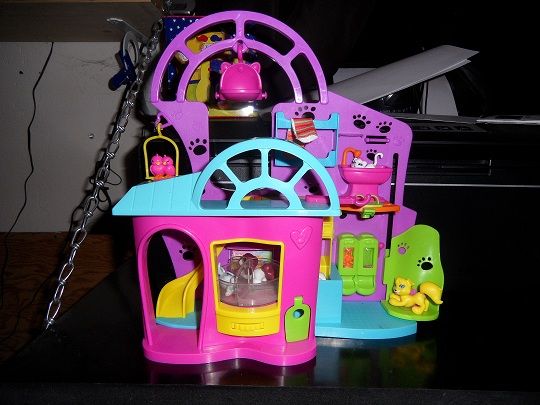 Basically, the pet shop is pet paradise. There are swings, slides, a secret compartment, and a variety of animals that entertain my child for hours. I was somewhat disappointed that there were no suction cups, which are uber helpful for transport and ensure pieces don't get lost. That feature was pure genius and it was "the" distinguishing feature that set Polly Pocket apart from its competitors. My kiddo was disappointed that she didn't get to hang the pets upside down as she could with the previous set.
I'm always leery of purchasing toys with small parts because
a) I don't want my child to lose any of the parts (a big complaint among most parents, I'm sure)
and
b) I don't want to step on them in the middle of the night as I fumble for the light switch
By having those suction cups, my child is encouraged to keep the pieces off the floor. Regardless, I plan to continue adding to the collection. I do think that it would be really neat to be able to build our own mansion, so to speak. Mattel could make rooms that can be stacked and perhaps latched for security, yet taken apart for portability. I would LOVE having an option of customizing a bigger playhouse!
The Polly Pocket DVD is super cute, too! Polly learns that there's much more to life than winning, which is a lesson we're working on teaching our daughter. As parents, there's always that delicate balance between letting our daughter win and having her, well, not win. I think we could all use a reminder to enjoy the journey rather than being too focused on the prize. If you're interested, the video is available through the Polly Pocket website!
Disclosure: I participated in a campaign on behalf of Mom Central Consulting for Mattel Polly Pocket. I received a product samples and a promotional item as a thank-you for participating.