Frigidiare-Store's ecosential by Smart Choice™
August 17, 2012

Filed under

Reviews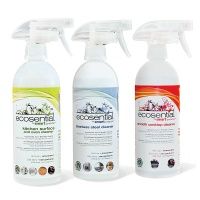 I have been testing out some awesome cleaners, which, to my knowledge, are only available through the Frigidaire Store. I was kindly sent the Combo Cleaning Kit, which includes a cleaner for Stainless Steel, another for Smooth Cooktops, and one for Kitchen Surfaces and Ovens. They are unscented and work extremely well.
I am ALWAYS complaining about how messy my fiance's grandfather is. I can spend several hours in the kitchen cleaning and mopping, only to come back a few minutes later to crumbs, splatter marks on the stove, and I could go on and on. I don't have a Smooth Cooktop, but sometimes I wish I did so I wouldn't have to deal with rusting stove parts, replacing burners, food particles getting stuck under the burners, etc. However, the the Kitchen Surface and Oven Cleaner works like a dream. I spray it on and within a few minutes, I can run a sponge over the worst caked-on spots you can imagine and it'll come right off.
I feel like Billy Mays. (Or, should I say the "ghost" of Billy Mays at this point? Hmmm….)
Anyway, since this product was developed by appliance experts, it makes sense. The irony? ecosential by Smart Choice really is a Smart Choice. I've been VERY happy with the kit.
Let me tell you about the Stainless Steel cleaner. I normally use Barkeeper's Friend, which is cheap and very effective, but the thing I'm finding with the Barkeeper's Friend is that it leaves behind a white, powdery residue. I can't figure out if it's a reaction to having hard water. All I can tell you is that it's annoying to have to clean something again after you "thought" you cleaned it in the first place.
Frigidare-Store.com also carries these fantastic multipurpose silicon pot holders/trivets (hot pads, basically) that are safe up to 675 degrees F, meaning you can TOTALLY clean them in the dishwasher. It also means no more damaged counter-tops, no melting, no warping, and no burning.
Take a gander at their website. Like me, you may find gems in the most unexpected places.
Disclosure: I received the above-mentioned products in exchange for an honest review. All opinions are my own.