Natural House – Moppy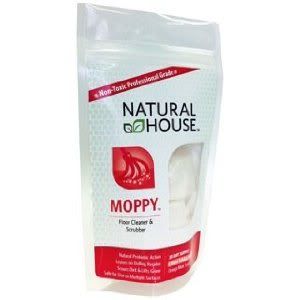 Last year, I wrote a review on Sinky, Trashy and Flushy and more recently, they have added Surfy and Moppy to their collection! Oh, and there's Glassy, too. I get a pretty good giggle outta those names. If you haven't heard of these unique probiotic cleaning products, give them a try! They are phosphate/APE-free, eco-friendly, non-toxic and biodegradable, meaning safe for you, your children and fur babies. According to their website, this product uses beneficial organisms that clean over time. This means that when you use the product, it will continue to work until the next time you clean.
The ingredients in Moppy are quite simple: Soda Ash, Baking Soda, Corn Sugar, Citrus Extract, Plant Based Surfactant, and Natural Enzymes.
I placed a tablet in the middle of my kitchen floor (I use an extra wide microfiber mop, so no hands and knees scrubbing and no bucket) and poured warm water over it to dissolve the tablet. I let it sit for a while before I proceeded to mop the floor and it worked quite well. It even conquered some stains on my floor that were left from my leaky Bissell steam mop. I know that sounds strange, but whatever leaked out of it left a yellow ring on my floor. In hindsight, I should have taken before and afters.
Maybe next time!
Disclosure: I was provided a packet of Moppy (30 day supply) in exchange for an honest review. All opinions are my own.