Thymeless Bath & Oils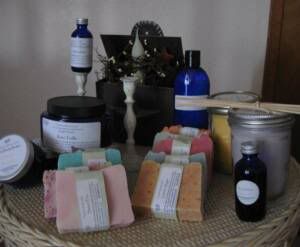 Thymeless Bath & Oils kindly sent me a sampler of their products to review, including Sea Spray scented soap, Apricot and Freesia room and linen spray, a soy brick, and small vial of roll-on lavender and rosehips perfume.
Let's start off with the perfume. I am a huge fan of lavender, but I did not smell even a hint of lavender in the perfume. However, I do like the smell of roses, so I keep it by my bed for a little bit of aromatherapy while I relax. It's a little strong for me to wear (like many roll-ons, a tiny bit goes a LONG way), so having the smell waft through my sleeping area makes me feel like I'm in a bed of roses.
The soy bricks are actually a wonderful alternative to Scentsy, which uses paraffin wax derived from crude oil. I purchased enough Scentsy bars to last for LIFE and I am ashamed that I didn't question the ingredients before purchasing. While there's a lot of controversy that states soy wax is no better than parrafin wax, for me personally, it comes down to the product that comes from renewable resources. Soy is my biodegradable champion.
The Apricot and Freesia spray was by far my favorite product of the bunch. It makes a great bathroom spray (I don't think I have to explain that one…) and a great deodorizer. We have a few male cats that were neutered a little late, so they're still in the habit of spraying. One of the cats happened to spray my daughter's mattress, which might've already had some residual urine odor because she wet the bed and the mattress protector didn't do its job. Anyway, after cleaning the mattress, I used the linen spray. When I later checked to see if the mattress needed another round of cleaning with my Bissell Spotlifter 2x, I was pleasantly surprised that the urine smell was gone.
Of course, I cannot forget the soap, which contains shea butter, oatmeal and olive oil — all of which are WONDERFUL for your skin. The soap has a rich lather with a scent that is everything I would imagine in a summer's trip to the ocean. I can definitely appreciate it, since I've been rained in over Spring Break! What's also neat about the Thymeless soap bars is how they're shaped. This is the first time I've ever received bars that were more compact. Not that it's a bad thing! I actually prefer it!
Now I can't wait to get my hands on some gardener's soap (pictured below). They contain cornmeal, course ground oats and/or organic ground coffee beans to conquer the dirt that normal soap can't! Surprise the gardener in your life with a small Easter basket full of heirloom vegetable seeds and gardener's soap. Can't go wrong with that!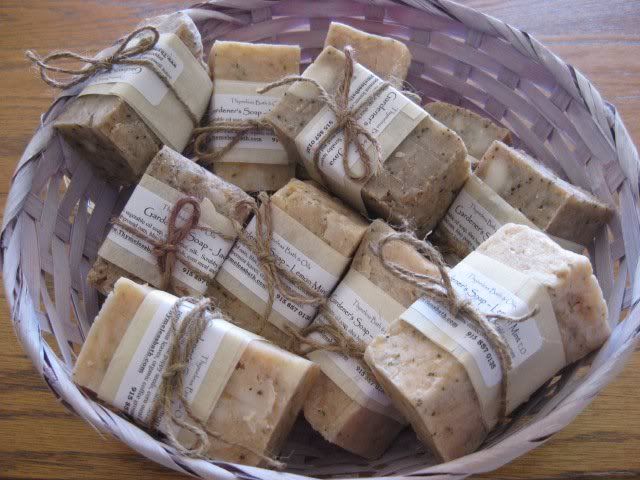 Disclosure: This review opportunity was presented to me through Karma Media. I was provided free product in exchange for an honest review. All opinions are my own.